Investigative Solutions Group - With over 35 years of experience in investigations in both personal and corporate settings, we are dedicated to supplying precise and accurate information by being involved in every case handled by this firm. ISGU achieves the most important goal: Securing accurate and relevant information in an expedient and cost effective manner.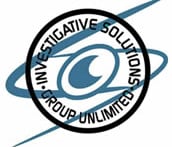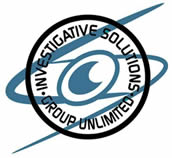 Why We're Good At What We Do!
🗹 Fast, Personal Response
🗹 Experienced Investigative Specialists
🗹 Over 35 Years Experience
🗹 Corporate and Personal Services
Litigation Services
• PRE-TRIAL & LITIGATION SUPPORT
• WITNESS LOCATION AND SKIP TRACING
• WITNESS INTERVIEWS
• DOCUMENT RESEARCH & RETRIEVAL
• FAMILY/DIVORCE MATTERS
Corporate Services​
• BACKGROUND INVESTIGATIONS
• PRE-EMPLOYMENT BACKGROUNDS
• CORPORATE INVESTIGATIONS
• DUE DILIGENCE
• INTEGRITY SHOPS
• UNDERCOVER OPERATIONS
Specialty Services
• PROCESS SERVICE
• MEDICAL TRACE REPORTS
• HANDWRITING PROFILES
• PERSONALITY ANALYSIS/ PROFILES
• CUSTOM HIRING PROGRAMS
• NOTARY SERVICES

How To Hire a PI
Do You Know What to Look For?
Is the company licensed and do they meet state requirements?
How long have they been in business?
What do their clients say about them?
Experience Based Knowledge
A great investigator finds the facts, interprets the information and paints pictures of possible outcomes, helping the client to understand their options and make great personal and business decisions.
ISGU proudly sets the industry standard and strives to improve them daily. If you agree with these ideas, we hope you will allow ISGU to demonstrate our expertise.
How will you benefit from ISGU?
ISGU has been in business for over 35 years, which is a testimony to our success rate for our clients! Deborah Colleen Rose, owner/manager strives for excellence in providing the best service at a reasonable rate in a timely manner.
Because of our diverse experience, we can provide excellent services at competitive rates. We can help individuals and corporations alike in civil, criminal, divorce, due diligence, hostile takeover, corporate mergers, employee terminations, backgrounds, surveillance and a wide variety of services. Many companies and databases provide you with raw information. Success depends on not what you know but how it is interpreted and how to apply the information to your needs. Our investigators do that and more!
We are your eye on the world!
Testimonials
From Private Citizens:

"Deborah Rose is truly a caring professional. Her service is dependable, and of the highest quality. She takes a genuine interest in all cases and is available personally to work with her clients. For an investigator with integrity and dependability contact ISGU."
-Cindy M.

From Insurance Companies:

"I wanted to take this opportunity to tell you how please I have been with the investigative services your company provides ... Moreover, your services have always been very prompt, professional and extremely beneficial ...Your immediate response and prompt reporting is very much appreciated. I wanted to thank you for your incredible services, customer service and professionalism."
-Mimi K.

"ISGU has been an approved vendor for our company since it was founded. Prior to that, ISGU performed services for our parent company, USF&G. I have found ISGU's work product to be fast, reliable and efficient. Deborah Rose, the owner, seems to always go the extra mile, while keeping her rates very competitive.

I highly recommend ISGU for both surveillance work and any other investigative services your company may need.
-Jerry H.

"The purpose of this letter is to advise that I have made numerous investigative assignments to ISGU, Inc. These assignments included various types of investigations including surveillance, background checks, interviews and witness locations. When an assignment is made, Deborah responds in a timely manner. Her investigations are completed timely and investigation reports are complete and comprehensive. Finally, I have found the associated investigation expense to be fair and accurate each time. I would not hesitate to recommend Deborah to anyone for an investigative assignment, and have done so in the past."
-Al M.

Corporate Clients:

"ISGU has been very quick on the turn around for background checks of all types in all cities and states that we have requested. This enables us to fill vacant positions very quickly. Thank You for your great service."
-Mary C.

"We have worked with ISGU for over eight years and their service has been unparalleled. They always give us timely and accurate information and treated us ethically and honestly. ISGU is the most efficient company we have worked with."
-Dan S.

Other Investigators:

"I wanted to thank you again for handling the hospital trace search. It was truly a great help to my client. I look forward to utilizing your hospital trace search again."
-Ted K.

"I would like to take this time to publicly state that I have recently used Deborah Rose of ISGU... out of Texas for a Hospital Trace Report. All I can say about Deborah and her staff is that they are top notch. My request was handled in an extremely professional and expedient manner. Investigators like this make us all look good. Keep up the good work ISGU."
-Marty S.